Environmental sustainability is very important to us all at The Country Garden Company. It was really a dawning horror at the environmental and social impact of the cut flower industry that led to the creation of our business, and the belief that we can do better, which has led to its continued growth and success.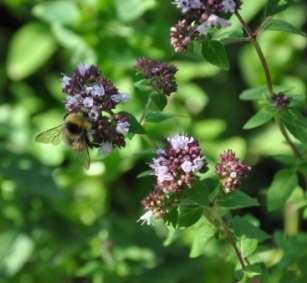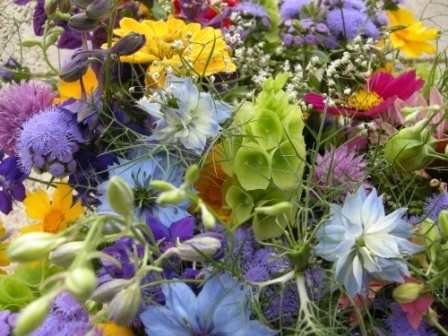 We grow the vast majority of flowers, herbs and foliage that we use, or try to source from our networks of local growers before considering ordering from non local wholesalers. This means that not only are our flowers not flown 1000s of miles in refrigerated containers, they are pesticide free, plastic free and so fresh that we dont need to use chillers or flower food to sustain them,
Our entire growing process is carried out with sustainability in mind; minimal plastic use, natural soil enrichment, natural pest control and the careful custodianship of our small piece of land are all important to us. We have several bee hives and always ensure that some of our field is nurtured as a wild meadow.
A typical flower in one of our arrangements has been grown by us from seed, is grown on in a biodegradable pot, is sustained as naturally as possible, has not been treated with pesticides or non natural fertilisers, is used in a foam free arrangement and, if it is to be disposed of by us, ends up either being dried, donated or composted.
We extend our eco-friendly practices to our floristry as well as our growing. We have been completely free of floral foam (oasis) for eight years now and have worked hard to develop different ways of ensuring that our designs remain fresh without it. The moss that we use as an alternative in some cases, is largely gathered by ourselves and forms part of a woodland floor management system. The moss that we do source is bought only from trusted and reliable colleagues. All our plastics and wire mesh are continuously recycled. Our natural burial flowers contain only moss and twine as a base so complying with the natural burial ethos.
Social responsibility is also on our hit list and we often take part in 'lonely bouquet' campaigns where bunches of spare, excess or recycled flowers are left locally for people to gift or take home to enjoy. The feedback from this really does cheer our hearts!!
Finally, after much discussion, we decided to forgo our diesal van and have an ugly but eco friendly trailer in which to transport our larger items to weddings, parties and events. It looks like a grey battle ship on the outside but is a real cave of wonders when we open the doors to reveal our precious cargo. Despite being a terror to park and a nightmare (for me) to reverse we absolutely love it.
Sustainability really is at the heart of our business and we continually strive to become better at it - and we will continue to change our practices to ensure that we produce a beautiful product that has no negative environmental impact and to provide floral arrangements that are genuinely beautiful in every way.